The State Cinema turns 100 this week and celebrations are well underway. The State is synonymous for quirky and eclectic films and holds a special place in the hearts of many
Hobartians
.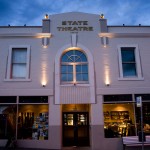 I spent some of my student days with a glass of red in hand,
watching art house films - thought I was very sophisticated!
Here at Loopee Designs, we wish the State many happy returns and a big thanks for their ongoing support of our business.
Thrilled that we were commissioned to do the centenary bookmark as part of the birthday festivities.
At the end of the week, we are catching part of the Japanese Film Festival, there are also some reruns of some Hollywood classics now showing.
Here's to another 100 years of fabulous cinema!